Special Mother/Daughter Tea Drury Lane Oak Brook
Submitted by

Manager

on Thu, 04/25/2013 - 13:56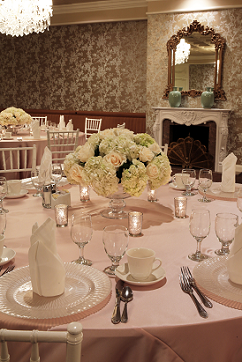 The newly renovated Drury Lane, 100 Drury Lane, provides the perfect setting to celebrate Mother's Day.  On Saturday, May 11 at 3 p.m., Drury Lane invites Mothers and Daughters to enjoy high tea in the gorgeous new French Room, followed by a performance of the critically-acclaimed, Tony Award-winning musical OLIVER! at 5 p.m. On Sunday, May 12 from 10:30 a.m. until 5 p.m., Drury Lane features a lavish Mother's Day Brunch that diners of all ages will enjoy.  An annual tradition, this year marks the first Mother's Day Brunch following Drury Lane's extensive renovation of its lobby, lounge and ballroom spaces.  Reservations are required by calling 630.530.8300 in advance.  
Moms and Daughters are invited to attend the Mother/Daughter Tea in Drury Lane's luxurious French Room, which features silver-leafed Chinoiserie wallpaper and elegant crystal chandeliers.  The menu includes sandwich selections such as Cucumber with Herb Cream Cheese, Radish and Arugula on White Bread; Smoked Turkey and Pear Chutney on Brioche; and Classic Egg Salad on Rye; freshly baked Scones with Nutella, Lemon Curd and other toppings; and for dessert guests will indulge in Cream Puffs, Éclairs, Mini Fruit Tarts, Mini Cannoli, and Chocolate Covered Strawberries.  The Tea Service will include an array of fine teas, from Darjeeling to Lemon Ginger. The buffet-style Mother/Daughter Tea is $22/per person.  For tea and tickets to see OLIVER!, the package is $71/per person.
The menu for the Mother's Day Brunch features an enticing array of gourmet selections.  Starters include Oysters Rockefeller, Bruschetta, Chilled Shrimp, Deviled Eggs, Crab Cakes, assorted Homemade Breads and Muffins, Domestic and International Cheese and Crackers, Fresh Grilled Vegetables and Fruit Salad, Crabmeat Salad, Pasta Salad, Caesar Salad, Spinach Salad and Garden Salad. 
Entrees include Lamb, Baked Norwegian Salmon, Italian Sausage with Sweet Bell Peppers, Cheese Manicotti, Meatballs in Pomodoro Sauce, Country-style Rigatoni, Cheese Blintzes, Fresh Egg Fettuccini Pasta, Quiche Loraine, Beef Stroganoff, Rice Pilaf, Breakfast Potatoes, Scrambled Eggs, Sausage Links, and Smoked Apple Wood Bacon.  The buffet also features a Carving Station with hand-carved Beef, Virginia Ham and Turkey with trimmings including Stuffing and Mashed Potatoes. A Kids' Station offers French Toast Sticks, Chicken Fingers, Corn Dogs and Tater Tots.  
For dessert, guests are invited to indulge in the hand scooped Ice Cream Sundae Station with an assortment of delicious toppings. Other sumptuous sweets include Gourmet Tortes, Mini French Pastries, Crème Brule, Flan, Rice Pudding, Chocolate Mouse, and homemade Fruit Pies.
The Mother's Day Brunch buffet is $35.00 for adults, $15.00 for children ages 6-12, $10.00 for children ages 3-5, and children ages 2 and under are free.  Champagne, Mimosas and Bellinis are included.  Free parking is available to all guests as well. 
Reservations for both events are required by calling 630.530.8300.  For more information, visit www.drurylane.com.