Interview With Michal Bitan
Submitted by

Manager

on Wed, 06/19/2013 - 00:07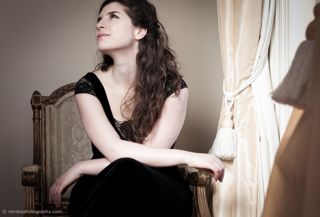 B: Good morning Michal! Thank you very much for your time. We know you've been very busy recently with auditions, you were in Madrid and you just came back from Vienna, how was it?
M: it was quite great actually. I was happy with the results. It's kind of like every time I go I try to put on this attitude of a big star, you know. The smaller the plane, even the last time I was going on a very tiny plane back to Amsterdam from Vienna and I was thinking ok go take a look back and wave like Marilyn Monroe! Everybody behind me was like "who is she waving to?" And I'm like "I'm waving to destiny".
B: A kind of diva!
M: I think in normal life I'm not that kind of diva but when you go to an audition you have to be a diva!
B: It's always nice to get a plane, to meet creative people! You were born in Israel?
M: Yeah I was born in Jerusalem, my family is mostly there, and it's quite some time since I've been there actually because I have been working for a year and a half non stop now.
B: Why did you choose to study at the Royal Conservatorium in The Hague? Not because of the weather conditions, right?
M: One would not choose going to The Hague for the weather! Actually The Hague has the largest department for early music in the world, and a big part of me is tuned to early music so I wanted to specialize in historical singing, I actually specialized in 18th century music, opera. And I wanted to do that in a place where I could have the most ensembles possible. That was the biggest choice for me.
B: The Royal Conservatorium of The Hague is prestigious and well known, very international.
M: Yes, 99% of the department is international students and it collects professors like Michael Chance, Jill Feldman, Ton Koopman, Jack Och, it's quite international and quite big names are there. It's nice that you can actually sit down with these people and see how down to Earth they are - most of them!
B: Nice. I got the chance to be at your final master exam and I really enjoyed it. You got a 9! It's excellent! I have to tell you that I was really charmed by your voice and your presence on stage. it was really great! Do you remember your impressions before, during and after the performance?
M: I actually felt it was one of the most difficult things because an exam is definitely not a concert. A concert you go just think I am going to give everything, and the audience is usually very receptive, you share something. At an exam you also have to be like "Ok this is a mark, to stay there forever!" And you have to prepare in a different way and it's a bit like a fire squad sometimes! There's a jury, I had six people in my jury. But it was actually great because you find a way to still be yourself and I was able to work with so many people in my exam. There were 30 people on stage in that evening and there were two Baroque orchestras, there was one Baroque ensemble, my ensemble "A Dialogue on a Kiss" on stage so I was surrounded by good people, good people to share with.
B: Yes, this is your work. You had to plan everything. You had to choose the pieces of your program. You thought of the poster as well. All the stuff, not only the concert, but all 'round, you thought of everything.
M: Yes, it's a situation that actually I hope would never happen again because of course in real life you organize your things but you never have to organize so much at one time, you have to do the lights yourself, you have to make so many choices by yourself, you have to be - you can't be the diva and put everything aside and just come and sing! You have to be the stage man, you have to be the light man, you have to have many hats at the same time.
B: Which is interesting actually!
M: Yeah, it's challenging, you find out so many things about yourself. For instance I never knew that I had such a specific taste! I mean of course I love singing and the greatest thing for me is just going on stage and communicating with the audience but you also have to make so many decisions and then you realize what is you, because every choice that you make has to come from you.
B: Michal, coming back to what is you. You are a Lyric soprano, Singing teacher and Researcher. You work with different groups, with Baroque ensemble, with dance companies, and you work on many other projects. How do you manage it? Do you still have time for hobbies? How do you manage all those activities in your domain in the music?
M: Some people like to specialize in one thing. I think actually that's not so much me because I thrive on finding who is me in every facet of what I do. For instance we work with a dance company called T.r.a.s.h. in the Netherlands and they do really vanguard music and you have to improvise a lot. It's really cool but then you really have to put down the other characters that you are and really commit to this vanguard music making and really finding something that you never did, and no one ever did on stage, and try to be that, try to discover what that is, and that's great. On the other hand, like you said, I research, my Specialism is 18th century opera singing so I go back and look for testimonies of the singers that did the first roles of concerts and for instance to see who the people are that did the first premieres of operas of Gluck and Mozart and Handel. And you see what they put in the characters, how do they act, how do they find the characters on stage. And it's amazing because you get so many ideas, and you get so much inspiration from that because you see that people are people. You try to find yourself and you try to find what's human.
B: You worked with great masters such as Zubin Mehta and Giuseppe Sinopoli. Do you have any memories you could share with Chicago 3 media about one of them?
M: Yeah I think Zubin Mehta the first time I saw him in rehearsal with the Israeli Philharmonic, it was amazing because he came on stage and he had such a generous appearance, even in his walk! He was coming into the room and he was commanding the whole room, it was really inspiring to see. On the other hand, it was also inspiring but in a different way, I was working with Luciano Berio on a piece that he wrote called "Ofanim" and it was actually written for the choir I sang in as a child.
I was a child, I was 13 years old, we were doing this piece in Turin in Italy, and he scared the crap out of me! I think he had a bad day. I think he couldn't really.. He was a man who knew what he wanted and wouldn't let go until he got it. And as a 13 year old kid, I think he brought the fear of God into me! So you get all kinds of impressions.
B: Have you been to Chicago or anywhere else in the USA?
M: Well, I did perform in New York, in Manhattan in 2007, I think it was July, we were traveling from Montreal by train to New York, I remember it was… don't take the train! You can take the plane! But we came from the jazz festival in Montreal - amazing, and then we went to perform in some low key bars in Manhattan, it was really nice.
B: So you did performed in Canada?
M: Yes I performed in Ottawa and Montreal. Actually we came this year with the dance company from Tilburg from the Netherlands - 'T.r.a.s.h.', we performed twice at a festival in Ottawa and then in Montreal, in February and March just now.
B: Are you working on a new project? When is your next performance?
M: My next performance is Friday actually. Now in The Hague in the Netherlands there is a festival called 'Festival Classique', it's happening every second half of June every year, and it's many different kinds of performances, street performances, main stage performances, in bars. It's promoting classical music. The performance is in the afternoon, from 5 until the late evening at 'Het Plein' - it's a big square outside the other side of the Parliament in The Hague. And it's going to be me, and my ensemble "A Dialogue on a Kiss". It's going to be quite exciting, it's going to be a mix of very early Italian pieces, so pieces written by Claudio Monteverdi, and mixed somehow with songs like Cesaria Evora, and it's going to be a one time thing!
B: Where can we buy tickets?
M: It's free, come, take a seat at a cafe in Het Plein and enjoy the show!
B: Great, I hope I can make it! Michal, is there a way to follow you online? Do you have a website, a twitter account or Facebook page?
M: Definitely Facebook, I have a website, just Google Michal Bitan soprano, it's really easy, there are not many!
B: Ok Michal, it was a pleasure talking to you. Thank you very much for your time, and Chicago 3 Media and I wish you all the very best for your career. And if you come to Chicago, just get in touch with us
M: Thank you, I will definitely!