ComedySportz Chicago prepares for Rapture A hip-hop improvised comedy show
Submitted by

Manager

on Thu, 05/15/2014 - 14:09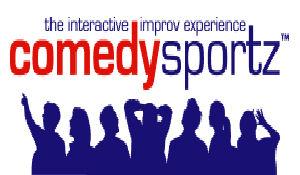 ComedySportz Chicago is proud to introduce a new kind of improv show.  Directed by ensemble member Rene Duquesnoy and featuring a cast of both ComedySportz ensemble members and other actors, this hip-hop based rap improv show will run June 26 - July 31 at The ComedySportz Theatre, 929 W Belmont Ave. in Chicago.  Tickets for RAPTURE are on sale now at
www.comedysportzchicago.com
, by calling the box office at 773-549-8080 or by visiting ticketmaster.com. The press opening is Thursday, June 26 at 10pm.
RAPTURE features Matt Castellvi*, Sean Sullivan*, Jamie Campbell*, Ryan Williams*, Yvette Rebik*, Nathan Jansen*, Nelson Velasquez, Molly Jones, Tyler Davis, Dan Rahrig, TJ Medel, and Sarah Hoffman.  * -indicates a ComedySportz ensemble member
RAPTURE is a blend of freestyle and improv comedy, and features twelve of the funniest folks with flow you will find in Chicago. Watch them cut and scratch scenes together in a narrative, mixing hiphop with all genres. Rapture culminates in a massive freestyle session, calling back themes, characters, and story in a big mic dropping ending. 
Duquesnoy is a co-founder of the critically acclaimed show The Beatbox and developed and teaches the hiphop master class MadSkillz at the ComedySportz Training Center. When he's not performing, he serves as a staff sergeant with the Air National Guard.  For this show, he has broken out his turntables and will be sampling classic beats for the cast, using some of the best old school rap songs as rhythms for this talented blend of improvisers." RAPTURE will have a story," Duquesnoy promises. "The songs will always be rapped, but the genre could be science fiction, melodrama, or fantasy. This isn't your parent's Krush Groove."    
PRODUCTION DETAILS:
Title: RAPTURE
Director:  ComedySportz Ensemble Member Rene Duquesnoy
Cast: Ensemble Members Matt Castellvi, Sean Sullivan, Jamie Campbell, Ryan Williams, Yvette Rebik, and Nathan Jansen, and introducing Nelson Velasquez, Molly Jones, Tyler Davis, Dan Rahrig, TJ Medel, and Sarah Hoffman.
Location: The ComedySportz Theatre, 929 West Belmont Ave., in Chicago.Dates:
Press Performance: Thursday, June 26 at 10:00 pm
Regular run: Thursdays, June 26, 2014 - July 31, 2014
Curtain Times:  Thursdays at 10pm
Tickets: $10.  Tickets for RAPTURE are on sale now at
www.comedysportzchicago.com
or by calling the box office at 773-549-8080 or by visiting tickemaster.com